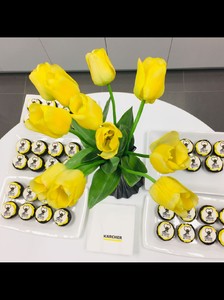 Thank Your Cleaner Day™ 2019 saw many celebrations throughout New Zealand and around the globe.  
Now in its fifth year, the day continues to gain momentum year on year as it raises awareness of the essential service the New Zealand commercial cleaning industry provides to the community, as well as celebrating the role of professional cleaners.
In New Zealand, the commercial cleaning sector is worth more than $1 billion annually and employs more than 30,000 people.
Sarah McBride said this year's event was highly successful, with the initiative continuing to gain momentum year on year.
"Thousands of cleaners were thanked yesterday, and anyone who was lucky enough to attend Thank Your Cleaner Day events will know how grateful our cleaners are for the recognition of their hard work.
"I saw some incredible celebratory cakes, heard some wonderful speeches and engaged with many of our wonderful cleaners, I greatly appreciated the opportunity to thank them personally.
"I want to thank everyone who took the time to celebrate with our cleaners.  Where would we be without them? It certainly doesn't bear thinking about!
"Thank you again for your hard work, and we look forward to celebrating the day with you again in 2020."