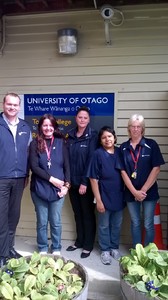 Toroa College put morning tea on to ' Thank the Cleaners'.
Karen Butler – Supervisor has a great relationship with the client and leads her team to deliver a great daily service.  Karen McCreath (CSM) oversees this contract and delivers on expectations for the client.
Special mention for this site,
I had a JSR on Monday with the Client and she raved about the service she receives from Karen & the team!
Christina was more than happy to engage with us for TYCD and acknowledge the great work our team do for her and Toroa.
Well done – keep up the great work!